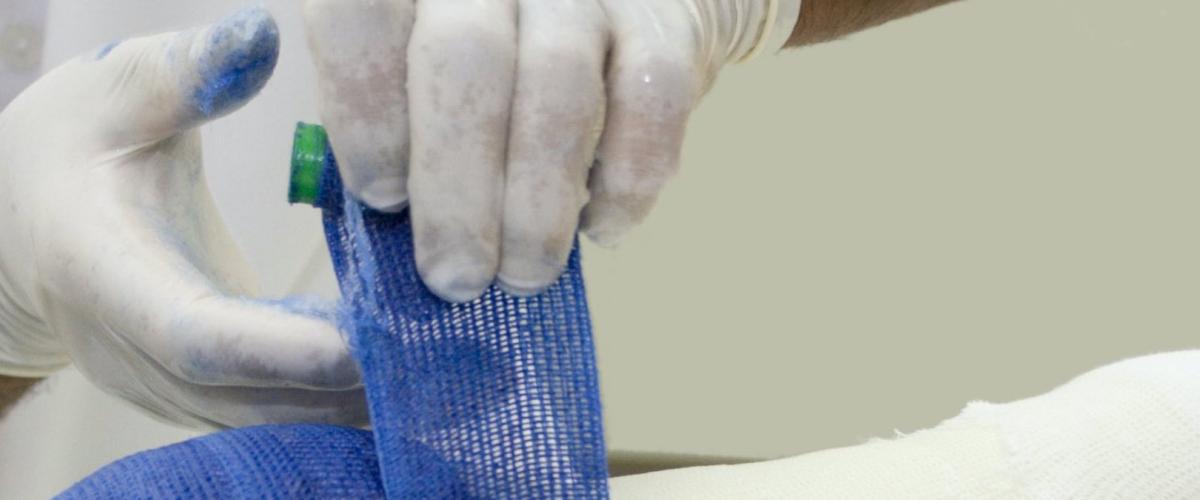 Orthopaedics offers a varied and rewarding career for physician assistants, and we are proud to offer a training program at Duke, the birthplace of the physician assistant profession.
As one of the nation's leaders in the delivery of orthopaedic care and resident education, we offer a 12-month residency designed to help PAs develop the knowledge and skills to make an immediate impact on their postgraduate practice.
Our residency program will provide residents with both didactic and clinical education. Residents will have first assist OR training, first call responsibility, and extensive clinical training to provide sound skills to practice as a physician assistant in orthopaedics. Residents will be exposed to all aspects and subspecialties within orthopaedics.
Mission and goals
Our mission is to provide PA residents with the clinical and surgical skills necessary to ethically practice in either an academic or community setting at the highest possible level of competence.
The goals of the residency are for residents to master the fundamentals of clinical science as applied to orthopaedics, including but not limited to:
Suturing
Fracture reduction and stabilization
First assisting in OR
Evaluation of clinic patients and disease process
Surgical anatomy
Casting/splinting
Metabolic process of bone healing
Surgical pathology
Wound healing and management
Homeostasis
Evaluation of the orthopaedic trauma patient
Credential awarded
Upon your successful completion of the residency program, you will be awarded a certificate from Duke University Medical Center and the Department of Orthopaedic Surgery.
The Duke Orthopaedic PA Residency Program is committed to providing residents with an outstanding didactic and clinical experience, challenging each resident to grow as an individual and as a practitioner. Through this training, residents will be prepared to provide exceptional patient care during a career as an orthopaedic physician assistant.
Didactic curriculum
The didactic curriculum will be delivered on a continuous basis throughout the 12-month program. Each clinical rotation has a didactic phase. Additionally, residents will attend the basic science course along with orthopaedic residents.
Weekly conferences:
Specialty lectures
Journal clubs
Seminars
Grand rounds
Radiology conference
Clinical curriculum
The clinical curriculum allows residents to function as first-year (PGY1) physician orthopaedic residents. Resident duties include:
History and physical examinations
Writing patient orders
Making rounds and recording notes in the patient chart
Examining patients in the ER
Ordering diagnostic test
Surgical first assisting
Residents will develop skills in fracture reduction, splinting and casting. Extensive exposure to the clinic will give residents the opportunity to develop physical exam skills and learn how to create treatment plans. Additionally, residents are assigned first-call responsibilities with appropriate supervision at all times. Night and weekend call will be assigned on a rotating basis.
Clinical rotations
Foot and ankle
General orthopaedics
Hand and upper extremity
Pediatrics
Spine operative and nonoperative
Sports medicine
Total joint replacement
Trauma
Elective rotation
Compensation and benefits
Stipend of $45,000
Two weeks vacation
Medical, dental, and basic life insurance
Professional liability insurance
Two lab coats
Resident handbook
Download our PA resident's handbook (PDF) for additional details. 
Contact us
If you have questions about the PA Orthopaedic Surgical Residency Program, please contact:
Ryan D. Clement, PA-C, Director
Phone: 919-470-7162
Email: ryan.d.clement@dm.duke.edu
Thank you for your interest in our Physician Assistant Orthopaedic Surgical Residency Program. We consider applicants who have:
Graduated from an accredited master's-level physician assistant program
Passed or are eligible to take the NCCPA certification examination
Earned BLS and ACLS certification
Class of 2022–2023 Application Timeline
January 1, 2021 – April 1, 2021: Applications accepted
April 1, 2021: Last day for applications to be accepted
April 20, 2021 – May 1, 2021: Candidate interviews
May 2021: Acceptance letters mailed
December 1, 2021: Program start date
What you'll need
Completed application form (PDF) and signed authorization release form (PDF)
Sealed official transcripts from all college/universities attended
Sealed official transcripts from your physician assistant program
NCCPA exam scores
Copy of NC Medical Board License
Copies of current BLS and ACLS cards
DEA certificate (if available)
Two passport-sized photos
A one-page personal narrative stating interest or experience in orthopaedics
Three evaluation forms (Word doc): one peer recommendation, one from an orthopaedic surgeon/PA and one from a clinical preceptor or PA program professor
$50 application fee, made payable to Duke University
Mail all application materials listed above in a sealed envelope without any staples to:
Duke Orthopaedic Physician Assistant Surgical Residency Program
4709 Creekstone Drive
Durham, NC 27703
Attention:
Ryan D. Clement, PA-C, Director PA Residency 
Ray Malaguti, PA-C
Questions about applying?
Call us at 919-470-7093 or email Ryan D. Clement at ryan.d.clement@dm.duke.edu.
PA Residency Medical Director
James A. Nunley II, MD, MS
Chair Emeritus
Department of Orthopaedic Surgery
Duke University Medical Center
Foot and Ankle Surgery
PA Residency Program Director
Ryan D. Clement, PA-C
Senior Physician Assistant
Department of Orthopaedic Surgery
Duke University Medical Center
ryan.d.clement@dm.duke.edu
PA Resident Advisors
Beth Turner, PA-C
Senior Physician Assistant
Co-Team Lead Advance Practice Providers
Department of Orthopaedic Surgery
Duke University Medical Center
Elizabeth.j.turner@dm.duke.edu
Joe Shinnick, PA-C
Senior Physician Assistant
Department of Orthopaedic Surgery
Duke University Medical Center
joseph.shinnick@duke.edu
Contact
Ryan D. Clement, PA-C, Director
(919) 470-7093
ryan.d.clement@dm.duke.edu
Duke Orthopaedic Physician Assistant Residency Program
4709 Creekstone Drive
Durham, NC  27703
Contact us
If you have questions about the PA Orthopaedic Surgical Residency Program, please contact:
Ryan D. Clement, PA-C, Director
(919) 470-7093
ryan.d.clement@dm.duke.edu

Duke Orthopaedic Physician Assistant Residency Program
4709 Creekstone Drive
Durham, NC 27703
 
Attention: Ryan D. Clement PA-C, Director PA Residency 
Ray Malaguti, PA-C