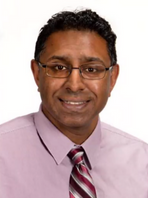 Associate Professor in the Department of Orthopaedic Surgery and Cell Biology
Duke Orthopaedics, Cellular, Developmental, and Genome Laboratories
joe.chakkalakal@duke.edu

Labsite: The Chakkalakal Lab
The Chakkalakal laboratory studies the cellular and molecular mechanisms that contribute to the growth, regeneration, lifelong maintenance, and sarcopenia-related deterioration of the neuromuscular system. We employ murine models, injury and transplant paradigms, cell isolation techniques, cell culture systems, gene expression analysis, high-resolution imaging methods, and assessment of neuromuscular function to determine how specific stem and progenitor cell populations, molecules of interest, and inflammatory-related signals regulate neuromuscular development, regeneration, and aging.

Our studies have thus far established; interrelationships between age-related stem cell and neuromuscular decline, the involvement of stem cells in neuromuscular regeneration, cell-specific roles for inflammation during neuromuscular regeneration, the cellular basis for juvenile neuromuscular growth, and contributors to lifelong neuromuscular decline in response to stressors such as DNA damaging paediatric cancer therapies. We hope insights gained from our studies can be exploited to identify therapeutic strategies that promote neuromuscular regenerative capacity and lifelong maintenance in a variety of contexts.
Contact
Joe Chakkalakal 
Associate Professor
Duke University School of Medicine 
Departments of Orthopaedic Surgery and Cell Biology
Orthopaedic, Developmental and Genome Laboratories