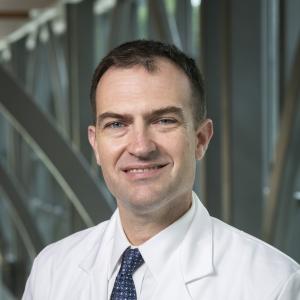 PGY-2
Hometown?
Bradford, Vermont

Where did you attend college/university?
United States Military Academy at West Point

What did you do after college?
I served in the US Army then started a farm.

Where did you attend medical school?
Geisel School of Medicine at Dartmouth

What were you looking for in a residency program?
I wanted a program with a strong team environment and great operative training. I don't believe there's another program that focuses so much on its people as Duke!
What are your research and clinical interests at this time?
I've enjoyed all aspects of ortho, narrowing my focus will be a real challenge over the next years.

Where did you choose to live, and why?
We bought a house in Old West Durham so we could be in a great neighborhood walkable to the hospital, shops, and school for the kids. 

What do you like to do outside of medicine?
I like to spend time with my family. We enjoy being outside gardening, running, hiking, and skiing. 

Any other information you'd like people to know (i.e: about your family, future plans, etc.)
The Durham area is fantastic, but I'm still working to find the NC replacement for making maple syrup and apple cider, the events that anchor each year in Vermont!