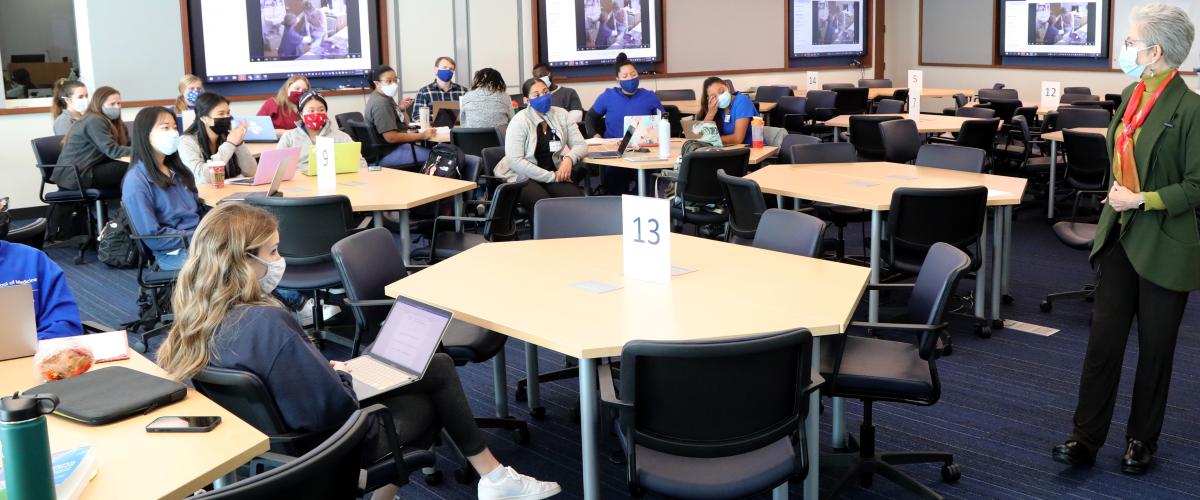 The  Occupational Therapy Doctorate envisions an inclusive world where all people flourish through access to and participation in meaningful, health-supporting occupations and the activities of everyday life.
The primary aim of the program is to advance the health of individuals, organizations, and communities by skillfully enabling the occupations of everyday life.
The Duke OTD is built on these core beliefs:
How people occupy time is a key ingredient in optimum health for everyone,
Enabling engagement in occupation is the distinctive contribution occupational therapy makes to health and social care,
Engagement in occupation supports health by fostering basic human needs of survival, capacities, meaning, identity, social connection, competence, and autonomy.
Successfully engaging in occupations requires a just-right transaction of skills, capacities, experience, motivation, interest, meaning, social support, environmental press, cultural relevance, political legislation, economics, technology, and other factors.
Occupational therapists optimize these transactions through assessing, adapting, advocating, collaborating, consulting, designing/building, educating, engaging, and applying specialty skills.
---
Click here to apply to the Occupational Therapy Doctorate program. Email OTD_admissions@duke.edu with any questions.
Accreditation
Accreditation 
The entry-level occupational therapy doctoral degree program has been granted Candidacy Status by the Accreditation Council for Occupational Therapy Education (ACOTE) of the American Occupational Therapy Association (AOTA), located at 6116 Executive Boulevard, Suite 200, North Bethesda, MD 20852-4929. ACOTE's telephone number c/o AOTA is (301) 652-AOTA and its web address is www.acoteonline.org.
The program must have a pre-accreditation review, complete an on-site evaluation, and be granted Accreditation Status before its graduates will be eligible to sit for the national certification examination for the occupational therapist administered by the National Board for Certification in Occupational Therapy (NBCOT®). After successful completion of this exam, the individual will be an Occupational Therapist, Registered (OTR). In addition, all states require licensure in order to practice; however, state licenses are usually based on the results of the NBCOT Certification Examination. Note that a felony conviction may affect a graduate's ability to sit for the NBCOT certification examination or attain state licensure.
Accreditation Timeline
Self-Study Report                  November 2022
Pre-Accreditation Review      Spring 2023
On-site Evaluation                 Fall 2023
Student Outcomes
The Duke OTD inaugural cohort graduates in 2024. At that time, program results from the National Board for Certification in Occupational Therapy (NBCOT) can be found online at https://secure.nbcot.org/data/schoolstats.aspx.
Student Retention
| | | | |
| --- | --- | --- | --- |
| Matriculation Year | Students Enrolled | Students Graduated | Graduation Rate |
| 2021 | 40 | To be reported May 2024 | To be reported Fall 2024 |
| 2022 | 45 | To be reported May 2025 | to be reported Fall 2025 |
| 2023 | NA | To be reported May 2026 | to be reported Fall 2026 |
| 2024 | NA | To be reported May 2027 | to be reported Fall 2027 |