The Duke Division of Sports Medicine is internationally recognized for the treatment and rehabilitation of sports injuries. The Duke Sports Medicine Specialists use the most advanced methods to evaluate and treat injuries in professional, collegiate, recreational, and youth athletes of all ages. 
The Duke Division of Sports Medicine team are world-renowned leaders in the field of sports medicine–committed to the complete recovery of every patient and working to get each athlete–where professional or a weekender-back in the game.  As the official sports medicine team for all of Duke Athletics, many local colleges and universities, and area high schools, the sports medicine professionals have performed over 21,000 surgeries in a four-year time span.
Meet our Team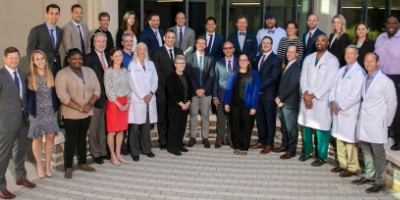 The Duke Division of Sports Medicine are the leaders in treating athletes of all ages. We are proud to be the Official team doctors for the Duke University Blue Devils Athletic teams and to be one of three FIFA Medical Centres of Excellence in the U.S. and one of 48 internationally.
Fellowship
Duke Sports Medicine Surgery Fellowship is to prepare fellows to be outstanding clinicians and surgeons, dedicated researchers, skilled educators, and effective ethical leaders in the field of orthopaedic sports medicine.

Learn more about the Duke Sports Medicine Surgery Fellowship.
If a sports injury or medical condition has sidelined you from your favorite activity, our sports medicine doctors tailor exercise and treatment programs to meet your unique needs and help you make a complete recovery. Our goal is to return you to an active lifestyle.
Research
Experts in our sports performance programs study the causes and prevention of injury, apply the findings directly to your care, and use the latest techniques to enhance your performance.
Our current research includes: improving the understanding, prevention, treatment, and rehabilitation of sports and activity-related problems of the lower extremity; trying to evaluate joint injury and osteoarthritis early in the process to possibly intervene before advanced changes occur in the joint; musculoskeletal ultrasound, regenerative medicine, and non-operative orthopedics; knee and muscle injuries; and optimizing the treatment of clavicle fractures, rotator cuff tears, and arthritis.