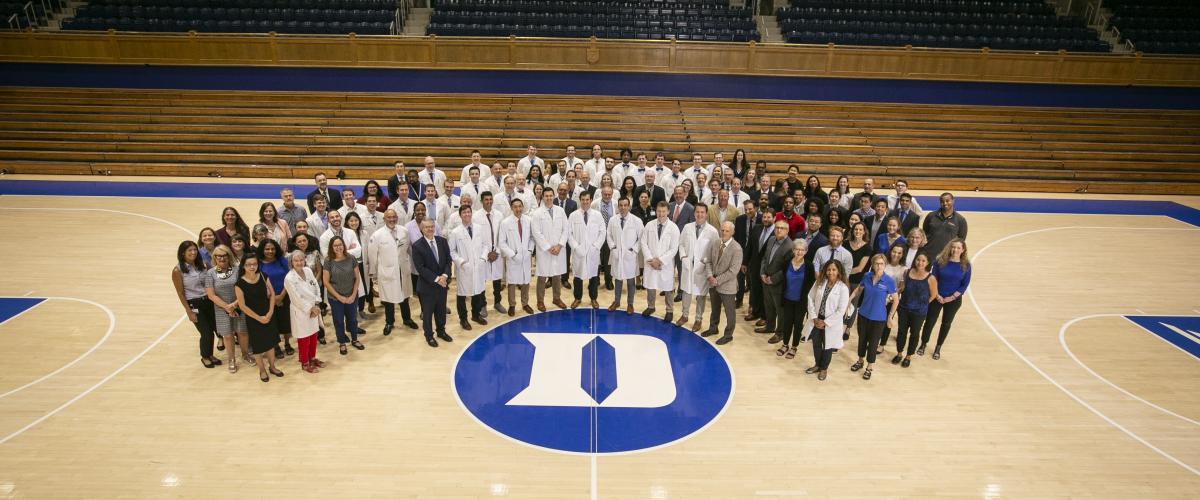 Duke Orthopaedics is committed to developing leaders in orthopaedics and rehabilitation research, education, and patient care through rigorous clinical training, extensive education, and progressive and graduated responsibility under supervision. As one of the nation's most respected education programs, we prepare residents, fellows, medical students, and physician assistants' to ethically and competently practice academic or community orthopaedic medicine at the highest possible level.  Trainees work closely with faculty who enjoy and prioritize patient care and teaching to provide the greatest opportunities for trainees to develop clinical skills, stimulate and develop research projects, and enhance surgical capabilities.
Orthopaedic Surgery Residency
Education is paramount at Duke and our residency curriculum includes a range of educational conferences that span the breadth of general orthopaedics and orthopaedic sub-specialties.
Tuesday Morning Faculty-Led "Specialty Core Conference" (6:30 - 7:15 am)

Wednesday Morning Grand Rounds Conference (6:30 - 7:30 am)

Thursday Morning Resident-Led "Fracture/Trauma Conference" (6:30 - 7:15 am)

Thursday Evening Faculty/Resident-Led "Core Skills Conference/Lab" (5:30 - 7:30 pm)
We would like to invite you to view digital conferences and presentations. 
Orthopaedic Surgery Fellowship
Our fellows receive advanced training in the following orthopaedic subspecialties: 
Adult Reconstruction

Adult Spine

Foot and Ankle

Hand

Hip Preservation

Pediatric Orthopaedics

Trauma

Sports Medicine
Medical Student Sub-Internship
Students in this four-week sub-internship receive a robust educational experience in orthopaedic surgery with duties and responsibilities similar to that of a first-year resident. Learn more about the sub-internship.
PA Orthopaedic Surgical Residency
Prepare for a career as an orthopaedic PA in an academic or a community-based practice through advanced training at Duke, the birthplace of the physician assistant profession. In this 12-month training program, PA residents will receive extensive didactic and clinical education, including first assist OR training and first call responsibility. Learn more about the PA Surgical Residency Program.