The Duke Division of Adult Reconstruction continues to lead the field in research, innovation, and in the number of hip and knee replacement surgeries performed each year.
Our joint replacement surgeons in the Division of Adult Reconstruction have performed more than 10,000 joint replacement surgeries in a two-year span and are nationally recognized for their comprehensive treatment approach for even the most complex cases.
As leaders in the field of orthopaedic and joint replacement research, our joint replacement surgeons constantly test and develop promising new procedures and artificial joints. Our goal is to make joint replacements work better and last longer for our patients.
Duke Division of Adult Reconstruction Team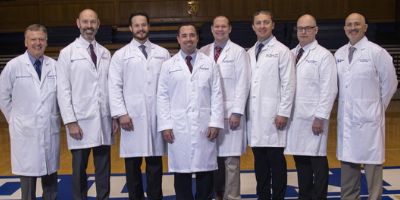 Our faculty are thought leaders in the field of orthopaedics. Not only do they push the boundaries of medicine in the research lab to develop the best treatment options for patients in the clinic, but they are continually striving for new ways to teach the next generation of surgeons. 
Fellowship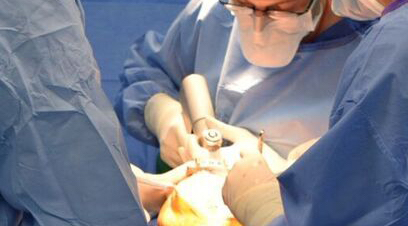 Our fellows gain experience in the most up-to-date techniques in joint arthroplasty and revision of joint arthroplasty as well as osteotomy, arthroscopy, and soft-tissue reconstruction. Led by full-time surgeons, specialty-trained in hip- and knee- replacements, and with a collective volume of over 3,300 cases per year, our program provides an opportunity for fellows to gain a wide range of experience with common and complex cases over the course of the year. 
Patient Care
The Duke Orthopaedic surgeons perform thousands of arthroplasty procedures annually to restore function and reduce pain. Duke is a nationally ranked leader and our patients benefit from our experience treating the most complex cases. 
Research
The research done in the Division of Adult Reconstruction includes finding novel diagnostic and treatment modalities in biofilm-related periprosthetic joint infections and clinical research focused on improving outcomes and care of joint replacement patients, allows our team to be on the cutting edge of hip and knee replacement and to evaluate the care they deliver as they strive for even better results for patients.
The division remains dedicated to the central mission of Duke Orthopaedics, which is to eventually find the cure for arthritis. There will be a day where the treatment delivered will be a biological one and not reliant on metal, ceramic, and plastic.