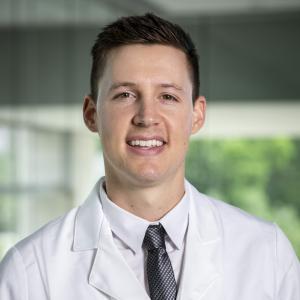 PGY-4
Hometown
Elkhorn, NE
Where did you attend college/university?
The University of Nebraska Lincoln 
What did you do after college?
Attended medical school at the University of Nebraska Medical Center
About the Duke program
What were you looking for in a residency program?
A program where I would receive the highest quality training, in a location where my wife and I can start a family, with a group of residents and a department that are committed to education, camaraderie, and family.
What are your research and clinical interests at this time?
My research interests are broad but currently focus on clinical research in both Spine and Trauma.
About Duke University and Durham
Where did you choose to live, and why?
My wife and I will be looking for places to live in South Durham. This area is close to the hospital, near many fellow residents, and offers easy access to all the great things Durham has to offer.
What do you like to do outside of medicine?
I enjoy spending time with family and friends, fitness, the outdoors, golfing, snowboarding, and all things sports. Though as a former college football player, my Nebraska Cornhuskers are of particular interest.