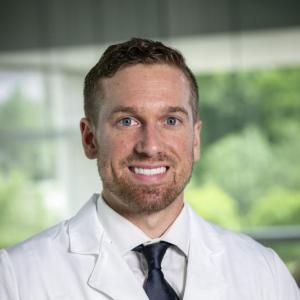 PGY-4
Hometown
Champaign, IL
Where did you attend college/university?
Centre College, Danville, KY
What did you do after college?
I went straight from undergrad to medical school, but I did drive to Alaska from Maine with my cousin that summer before, and we slept in the back of the car.
Where did you attend medical school?
Emory University School of Medicine
About the Duke program
What were you looking for in a residency program?
I was looking for a program that offered an excellent operative experience coupled with a strong tradition of resident success and abundant research opportunities.  I was exceptionally impressed with the quality of the Duke residents during my rotation here.  Moreover, and most importantly, I witnessed residents who not only had each other's backs but were clearly great friends who had a great time working together.  The attendings I worked with were phenomenal educators, adroit surgeons, and passionate researchers.
What are your research and clinical interests at this time?
My research interests are broad, but areas of consistent interest are opioid reduction strategies across orthopaedic subspecialties and outcomes after various procedures such as laminoplasty and quad tendon ACL repair.  Clinically, I enjoy adult reconstruction, operative sports medicine, and hand and upper extremity.
About Duke University and Durham
Where did you choose to live, and why?
I have not yet chosen a place to live, but have spoken with a real estate agent from Durham, and the market is very affordable and I think I will ultimately buy a condo or a house.
What do you like to do outside of medicine?
In my spare time, I enjoy being outdoors (mountain biking, hiking, swimming, boating, etc) as well as hanging with my friends/family.  I ran in college and also like to lift and run when I have the time.