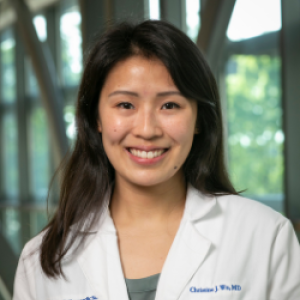 PGY-2
Hometown
Naperville, Ilinois
Where did you attend college/university?
Yale University
What did you do after college?
I worked as a research coordinator for a brain imaging group in Boston for a year.
Where did you attend medical school?
Duke University School of Medicine
About the Duke program
What were you looking for in a residency program?
The most important things to me in thinking about residency programs were finding a program that would make me the most skilled and compassionate orthopaedic surgeon that I can be, but also have a culture and environment that was supportive and close-knit. Duke has incredible faculty members and world-class training as well as a genuine sense of camaraderie among residents.
What are your research and clinical interests at this time?
I'm definitely keeping an open mind as far as a future subspecialty and research interests for residency and beyond, but so far I have really enjoyed my time on foot and ankle, adult reconstruction and hand/ upper extremity rotations.
About Duke University and Durham
Where did you choose to live, and why?
I am living in a townhouse in the American Village area. It has a little more space than an apartment but is still conveniently located since it's a short drive to the hospital, restaurants, stores, parks, etc.
What do you like to do outside of medicine?
Outside of medicine, I like playing volleyball and tennis, hanging out with my friends and family, doing HIIT & spin classes & enjoying the area's restaurants and breweries.
Any other information you'd like people to know (i.e.: about your family, future plans, etc.)
I grew up in the Midwest and spent college years in New England before coming to Duke/Durham for med school and now residency. Durham is one of the nicest and easiest places to live! My fiancé and I met in our first year of med school, and he is in the Internal Medicine program!