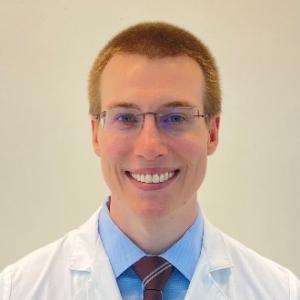 PGY-1
Hometown?
South Salem, Ohio

Where did you attend college/university?
Ohio University – Athens, Ohio

What did you do after college?
I taught middle and high school science in Arkansas with Teach for America and earned my Master of Science in Education degree.

Where did you attend medical school?
Johns Hopkins University (MD and PhD in Biomedical Engineering)

What were you looking for in a residency program?
Strong, supportive culture and commitment to excellence; a program dedicated to patient care, as well as teaching and research. Location was also important to me, including being in a place where my partner and I could imagine being happy. I wanted to be at Duke for all these reasons and more.

What are your research and clinical interests at this time?
I am passionate about basic/translational science research, including that based in materials science and biomedical engineering. I think there is enormous potential for innovation in orthopaedic surgery through materials science/biomedical engineering research. 

Where did you choose to live, and why?
I chose to live near the Eno River State Park – my partner and I love the outdoors and the commute to Duke University Hospital is only about 10 minutes.

What do you like to do outside of medicine?
Just about anything outside! I grew up on a farm and still love farming. I also love spending time with my family and friends, and I enjoy playing and watching most all sports.

Any other information you'd like people to know (i.e.: about your family, future plans, etc.)
I couples matched! My partner matched into the Duke Internal Medicine residency program. We are so happy and thankful to get to be Blue Devils.