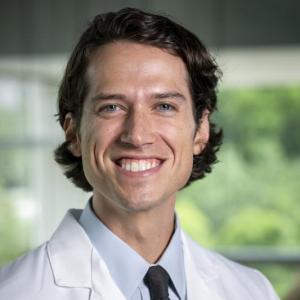 PGY-4
Hometown
Lancaster, PA
Where did you attend college/university?
Franklin and Marshall College
What did you do after college?
I worked at a local English pub and coached lacrosse before attending medical school.
Where did you attend medical school?
Geisinger Commonwealth School of Medicine
About the Duke program
What were you looking for in a residency program?
I was looking for a program that was strong academically, had excellent operative experience, and fostered my research interests. Additionally, I wanted a program with a strong sense of family among residents and faculty.
What are your research and clinical interests at this time?
My research interests include the detection and treatment of periprosthetic joint infection in total joint replacement surgery. I am also interested in nutrition and how this plays a role in optimizing patients for surgery, as well as promoting healing and improving functional outcomes.  
About Duke University and Durham
Where did you choose to live, and why?
I chose to live in West Durham based on its close proximity to the hospital. I wanted to live in an area that allowed for an easy commute to work and provided quick access to the downtown area.  
What do you like to do outside of medicine?
Eat, Run, Sleep. I love to play piano, spend time with my girlfriend/family and watch the Philadelphia Eagles.