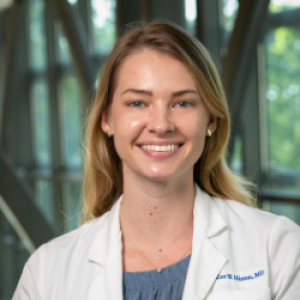 PGY-2
Hometown
Louisburg, North Carolina
Where did you attend college/university?
East Carolina University
What did you do after college?
I began medical school immediately after graduating from college.
Where did you attend medical school?
Duke University School of Medicine
 
About the Duke program
What were you looking for in a residency program?
I wanted to learn from a dedicated community of residents and attendings that prioritize patient care, leadership, innovation, and teamwork.
What are your research and clinical interests at this time?
My research background centers on clinical outcomes in primary and revision total joint arthroplasty. I have an interest in diversity, equity, and inclusion in the field and look forward to further study in this area. Clinically, I have not yet decided on a focus, but I am excited to learn about each of the different specialties during residency.
About Duke University and Durham
Where did you choose to live, and why?
I live downtown because of the walkability of Durham. I can walk out my front door and get to a great restaurant, running trail, or coffee shop within 10 minutes. 
What do you like to do outside of medicine?
I enjoy playing volleyball and golf, visiting the Nasher and NC Museum of Art, and spending time with friends and family.