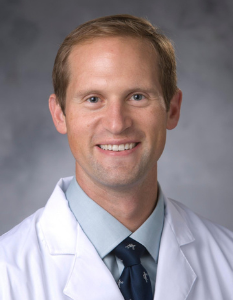 Dr. Mather is a clinical associate and vice chairman of practice innovation in the Department of Orthopaedic Surgery at Duke University School of Medicine. Additionally, he is a faculty member at the Duke Clinical Research Institute. Dr. Mather is a health services researcher and decision scientist with a focus on economic analysis, health preference measurement, and personalized decision-making. His current work focuses on integrating patient preferences into routine care and shared decision-making. Additionally, he has a great interest in health innovation, particularly in developing new care and payment models to foster different incentives and practice approaches. His clinical practice focuses on hip arthroscopy including both FAI and extra-articular hip endoscopy. Therefore, in addition to health service research applications, he conducts translational research on biomarkers and hip instability. Dr. Mather sees patients and performs research at the Sports Sciences Institute and the Duke Ambulatory Surgery Center.
Publications from the 2020-2021 Academic Year
·Bettger JP, Green CL, Holmes DN, Chokshi A, Mather RC 3rd, Hoch BT, de Leon AJ, Aluisio F, Seyler TM, Del Gaizo DJ, Chiavetta J, Webb L, Miller V, Smith JM, Peterson ED. Effects of Virtual Exercise Rehabilitation In-Home Therapy Compared with Traditional Care After Total Knee Arthroplasty: VERITAS, a Randomized Controlled Trial. J Bone Joint Surg Am. 2020 Jan 15;102(2):101-109.
·Warwick H, O'Donnell J, Mather RC 3rd, Jiranek W. Disparity of health services in patients with knee osteoarthritis before total knee arthroplasty. Arthroplast Today. 2020 Jan 8;6(1):81-87.
·Fletcher AN, Lau BC, Mather RC 3rd. Endoscopic Proximal Hamstring Tendon Repair for Nonretracted Tears: An Anatomic Approach and Repair Technique. Arthrosc Tech. 2020 Apr;9(4):e483-e491
·Sochacki KR, Mather RC, Nwachukwu BU, Dong D, Nho SJ, Cote MP, Harris JD. Sham Surgery Studies in Orthopaedic Surgery May Just Be a Sham: A Systematic Review of Randomized Placebo-Controlled Trials. Arthroscopy. 2020 May 14:S0749-8063(20)30414-X.
·Lau BC, Hutyra CA, Gonzalez JM, Mather RC 3rd, Owens BD, Levine WN, Garrigues GE, Kelly JD, Kovacevi D, Abrams JS, Cuomo F, McMahon PJ, Kaar S, Dines JS, Miniaci A, Nagda S, Braman JP, Harrison AK, MacDonald P, Riboh JC. Surgical Treatment for Recurrent Shoulder Instability: Factors Influencing Surgeon Decision Making. J Shoulder Elbow Surg. 2020 Jul 25:S1058-2746(20)30567-X.
·Bradley KE, Cook C, Reinke EK, Mather RC 3rd, Riboh J, Lassiter T, Wittstein JR. Comparison of the accuracy of telehealth examination versus clinical examination in the detection of shoulder pathology. J Shoulder Elbow Surg. 2020 Aug 29:S1058-2746(20)30689-3.
·Hutyra CA, Gonzalez JM, Yang JC, Johnson FR, Reed SD, Amendola A, Bolognesi MP, Berend KR, Berend ME, MacDonald SJ, Mather RC 3rd. Patient Preferences for Surgical Treatment of Knee Osteoarthritis: A Discrete-Choice Experiment Evaluating Total and Unicompartmental Knee Arthroplasty. J Bone Joint Surg Am. 2020 Oct 8.
·Lentz TA, George SZ, Manickas-Hill O, Malay MR, O'Donnell J, Jayakumar P, Jiranek W, Mather RC 3rd. What General and Pain-associated Psychological Distress Phenotypes Exist Among Patients with Hip and Knee Osteoarthritis? Clin Orthop Relat Res. 2020 Oct 12.
·Lau BC, Hutyra CA, Streufert B, Reed SD, Orlando LA, Huber JC, Taylor DC, Mather RC 3rd. Surgeon Applications of Patient Preferences in Treatment Decision Making for First-Time Anterior   Shoulder Dislocation. Orthop J Sports Med. 2020 Dec 4;8(12):2325967120966145.
·Fletcher AN, Cheah JW, Nho SJ, Mather RC 3rd. Proximal Hamstring Injuries. Clin Sports Med. 2021 Apr;40(2):339-361.
·Nwachukwu B, Rasio J, Sullivan S, Okoroha K, Mather RC, Nho SJ. Surgical Treatment of Labral Tears: Debridement, Repair, and Reconstruction. Sports Med Arthrosc Rev. 2021 Mar 1;29(1):e1-e8.
·Swiecicki A, Li N, O'Donnell J, Said N, Yang J, Mather RC, Jiranek WA, Mazurowski MA. Deep learning-based algorithm for assessment of knee osteoarthritis severity in radiographs matches performance of radiologists. Comput Biol Med. 2021 Mar 23;133:104334.
·Fletcher AN, Pereira GF, Lau BC, Mather RC 3rd. Endoscopic Proximal Hamstring Repair is Safe and Efficacious with High Patient Satisfaction at a Minimum of Two-Year Follow-up. Arthroscopy. 2021 Apr 19:S0749-8063(21)00333-9 
·Wickman J, Ferlotti C, Ferrell J, Hutyra C, Phinney D, Wahl M, Mather RC 3rd. Implementing video visits into an orthopedic hip arthroscopy practice: a case study. J Hip Preserv Surg 2021 May 18;7(4):655-659
·Horn ME, Reinke EK, Mather RC, O'Donnell JD, George SZ. Electronic health record-integrated approach for collection of patient-reported   outcome measures: a retrospective evaluation. BMC Health Serv Res. 2021 Jun 30;21(1):626.
·Su CA, LaBelle MW, Ina JG, Sivasundaram L, Nho S, Mather RC 3rd, Salata MJ. The safe zones for endoscopic proximal hamstring repair: a cadaveric assessment of standard portal placement and their relationship to major neurovascular structures. Hip Int. 2021 Jul 26:11207000211034171 
·Magill JR, Myers HS, Lentz TA, Pietrosimone LS, Risoli T, Green CL, Reinke EK, Messer MR, Riboh JC. Establishing Age- and Sex Specific Norms for Pediatric Return-to-Sports Physical Performance Testing. Orthop J Sports Med. 2021 Aug 19
·Cunningham DJ, Pidgeon TS, Saltzman EB, Mather RC, Ruch DS. The Value Added of Advanced Imaging in the Diagnosis and Treatment of Triangular Fibular Complex Pathology. J Hand Surg Am. 2021 Sep 1:S0363-5023(21)00445-7