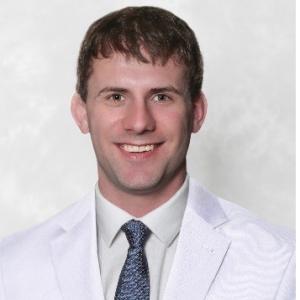 PGY-1
Hometown?
Pleasant Hill, Iowa

Where did you attend college/university?
The University of Iowa

Where did you attend medical school?
University of Iowa-Carver College of Medicine

What were you looking for in a residency program?
I was looking for a resident-focused program that is well-rounded in all sub-specialties with lots of research and education opportunities. Duke provides this along with excellent surgical training and sets you up to do anything in orthopedics following residency.  

What are your research and clinical interests at this time?
I am interested in all things orthopedics. My previous research focuses on hip preservation and surgical education.

Where did you choose to live, and why?
My wife, my dog, and I live in Northeast Durham. It is an area where we could buy a house and still be close to the hospital.

What do you like to do outside of medicine?
I follow the University of Iowa athletics, playing with my black lab, and going to concerts.