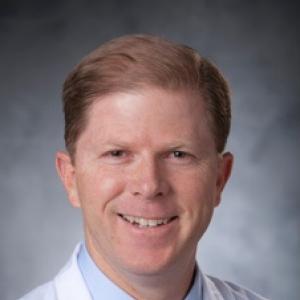 Professor in Community and Family Medicine
Dr. Boggess is a sports medicine specialist whose clinical and research interests are musculoskeletal ultrasound, regenerative medicine, and non-operative orthopedics. Dr. Boggess sees patients in the Duke Sports Science Institute and Duke Arrington clinic. He is a recognized leader in educating other physicians in the use of musculoskeletal ultrasound and orthobiologic procedures. Dr. Boggess is a principal investigator for The MILES (Multicenter trIal of stem ceLl thErapy for oSteoarthritis) study which is a randomized multicenter trial comparing the efficacy of corticosteroid control to mesenchymal stem cell preparations from autologous bone marrow concentrate (BMC), adipose-derived stem cells in the form of Stromal Vascular Fraction (SVF), and third party human mesenchymal stem cells manufactured from umbilical cord tissue for the treatment of unilateral Knee Osteoarthritis (OA).
Publications from the 2020-2021 Academic Year
·Roberts JB, Boggess SB, Berkoff DJ, Boggess BR. Correlation Established between Body Fat Percentages and Core Temperature Changes in NCAA Division I Athletes. Journal of Medical-Clinical Research & Reviews 2020; 4(1):1-4
·Rawlings, J. and Boggess, B. Ethical and Medico-Legal Issues in Injury Management and Return to Sport in Basketball. In Basketball Sports Medicine and Science (pp. 957-965). 2020
·Stocklin-Enright, T.F., Martinez, C. Bytomski, J., and Boggess, BR. Uncommon Cause of Unilateral Leg Pain in a Collegiate Athlete. J Med Clin Res & Rev, 4(8), pp.1-3. 2020.