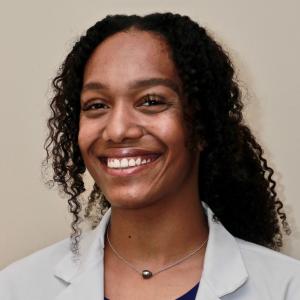 PGY-2
Hometown
Peachtree City, Georgia
Where did you attend college/university?
Louisiana State University
What did you do after college?
I earned my master's in medical sciences from Morehouse School of Medicine and coached track/field at Georgia State University
Where did you attend medical school?
Medical College of Georgia at Augusta
About the Duke program
What were you looking for in a residency program?
I was looking for a program that had leaders who were very invested in resident education. I wanted to be a part of a close-knit group that enjoyed time together inside and outside of the hospital. As a lifetime athlete, I also wanted to be at an institution where I could gain experience working with and caring for high-level athletes.
What are your research and clinical interests at this time?
I have interest in investigating the genetics of fracture healing and plan to research disparities in orthopaedic surgical care and outcomes and ways to improve them.
About Duke University and Durham
Where did you choose to live, and why?
I chose to live in Morrisville which is about halfway between Durham and Raleigh. There is a lot to do as far as restaurants, shopping, and getting outdoors and allowed us more space rather than downtown living.
What do you like to do outside of medicine?
Cooking is one of my favorite hobbies. I am also a huge movie buff and enjoy going to concerts, traveling with my fiancé, lifting weights, and riding my Peloton.
Any other information you'd like people to know (i.e.: about your family, future plans, etc.)
Throughout training and in the future, I always want to be a voice and advocate for women and minorities entering surgical specialties.