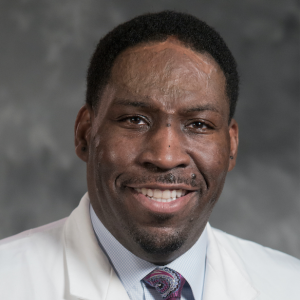 Associate Professor, Department of Family Medicine; Associate Director, Duke Sports Science Institute; Director, Sports Performance
Dr. Stafford is the Associate Director of the Duke Sports Science Institute. He is a sports medicine specialist with appointments in both the Department of Orthopaedics and Family Medicine. He is also the current Head Team Physician and Director of Sports Performance at NCCU. Dr. Stafford also serves as the Chief Medical Officer for the Mid-Eastern Athletic Conference. Dr. Stafford's research interests are in the areas of sports performance, sports nutrition, EKG changes in African American athletes, muscle injuries in sprinting athletes, and sickle cell trait in athletes. Dr. Stafford sees patients and does research at the Urbaniak Sports Sciences Institute.
Publications from the 2020-2021 Academic Year
·Skinner S, Ryan ED, Stafford HC, McMurray RG, Key NS, Mooberry MJ. An exploratory study of the effects of strenuous exercise on markers of coagulation activation, circulating microparticles, and inflammation in sickle cell trait. EJHaem. 2020 Jul;1(1):251-254.
·Stafford, H., Boyd, M., Willson, A., Stennett, N. and Ketterly, J. Probiotic Supplementation in Elite Athletes. National Association for Human Performance 21-25. 2020.
·Porras, L., Nelson-Chavis, J. and Stafford, H. The Importance of Athletic Trainers in the High School Setting: Safety and Performance. National Association for Human Performance 7-11. 2020.
·Stafford, H., Wood, C., Lockrem, J., Boyd, M., Willson, A. and Stennett, N. Whole Body Cryotherapy as a Performance and Recovery Modality. National Association for Human Performance 1-5. 2020.
·Stafford, H., Berkowitz, J., Adams, N., Porras, L., Sandbulte, Z., Fisher, B., Felton, C., Booth, J., Reed, W., Wells, S. and Johnson, L. The Effect of a Sports Nutrition Didactic Session on Division I Athletes. Medical Research Archives, 8(6). 2020.
·Elgart B, Pietrosimone LS, Lucero A, Stafford HC, Berkoff DJ. Identifying achilles tendon structure differences by ultrasound tissue characterization in asymptomatic individuals. Scand J Med Sci Sports. 2021 Oct;31(10):1914-1920.