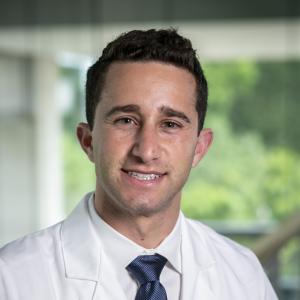 PGY-4
Hometown
Newport Coast, CA
Where did you attend college/university?
The University of Southern California
What did you do after college?
Attend medical school at Case Western Reserve University School of Medicine
About the Duke program
What were you looking for in a residency program?
Duke Orthopaedics has an incredible program combining world-renowned faculty dedicated to teaching, tremendous opportunities for research and innovation, and a supportive environment to develop excellent surgical skills. However, the greatest strength of Duke for me was the sense of family amongst the entire program.
What are your research and clinical interests at this time?
My current research interests include clinical outcomes research and health systems and health policy research. My clinical interests within orthopaedics are broad at this time, including arthroplasty, sports medicine, and spine.
About Duke University and Durham
Where did you choose to live, and why?
I chose to live in downtown Durham because the revitalization and growth in this area make it an exciting community to live in.
What do you like to do outside of medicine?
I enjoy playing soccer, exercising, traveling, concerts, and spending time with my family and friends.