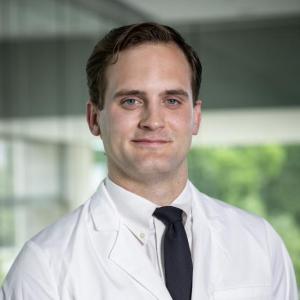 PGY-4
Hometown
Maryville, TN
Where did you attend college/university?
Vanderbilt University
What did you do after college?
I immediately matriculated at the Vanderbilt University School of Medicine.
About the Duke program
What were you looking for in a residency program?
During my search for a residency program I was looking for a respected, well-rounded program with a proven track record in the fellowship match, a group of residents that had great camaraderie, and a location where my wife, an epidemiologist, could find work she enjoyed.
What are your research and clinical interests at this time?
I am interested in bone biology and trauma clinical outcomes research, and am currently most drawn to the care of the orthopaedic trauma patient and sports medicine.
About Duke University and Durham
What do you like to do outside of medicine?
Outside of the hospital, I enjoy spending time with my wife, Miller, and our golden retriever, Darwin, cooking, doing anything outside - especially fly-fishing, snow sports, golf, shooting clays, and cheering on the Vanderbilt Commodores and the Nashville Predators. Go Preds!