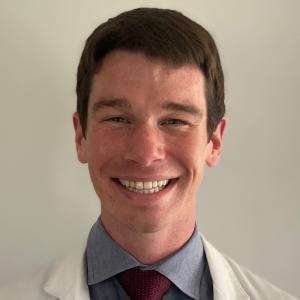 PGY-2
Hometown
Green Bay, WI
Where did you attend college/university?
Duke University
What did you do after college?
I went right into medical school at Duke
About the Duke program
What were you looking for in a residency program?
I was looking for a residency with faculty and residents that felt like an extended family, and where, after 5 years, I'd feel confident and competent to operate independently and to teach others. I also loved Duke's dedication to research. Finally, I wanted a place where I could be myself and have fun.
What are your research and clinical interests at this time?
My main research and clinical interests have focused on orthopaedic oncology and I've had the pleasure of working with the Comparative Oncology group at Duke for a couple of years. I've been lucky to be a part of projects that sought to understand the characteristics of patients with chondro- and osteosarcoma who are readmitted or pass away in the early postoperative period. We've also attempted to identify proteins to better characterize patients with an increased risk of readmission and decreased survival. Finally, we have also studied a novel chemotherapeutic that may reduce the risk of cardiomyopathy in osteosarcoma patients, while also treating localized osteosarcoma.
About Duke University and Durham
Where did you choose to live, and why?
I choose to live close to the hospital as I thought it'd be really convenient for me! Being able to walk to and from work really appeals to me.
What do you like to do outside of medicine?
I love to run and stay physically active! I also enjoy getting outdoors and walking through Duke Forest. On weekends, you can often find me at Ponysaurus enjoying a saison. I love watching the newest Netflix series and will listen to anything with a tropical beat vibe. Finally, I am a massive Packer fan!
Any other information you'd like people to know (i.e.: about your family, future plans, etc.)
I'm a recent first-time uncle to my sister's son, Theo. He is very, very cute! I will likely show you pictures and I'm sorry if it's annoying.