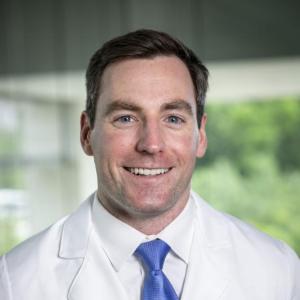 PGY-4
Hometown
Richmond, VA
Where did you attend college/university?
Georgetown University
What did you do after college?
After college, I worked for two years as a Medical Scribe for Anderson Orthopaedic Clinic and as a Research Assistant for Inova Alexandria Hospital's Shoulder Replacement Program. I also spent time working as a landscaper and lacrosse coach in Wyoming prior to matriculating into medical school.
About the Duke program
What were you looking for in a residency program?
I was looking for a residency program that would maximize my potential as an orthopedic surgeon and physician.  A team-centered environment was important to me. Duke's residents have clearly all bought in to the culture of the program. They are a close-knit, supportive group, and continually strive to get better every day. I also wanted a program that integrated innovative surgical skills lab training with an excellent operative experience. Additionally, I sought a program that was dedicated to fostering the development of skills in leadership, research, and patient care. These were the factors that I valued most when choosing a residency program, and Duke had them all.
What are your research and clinical interests at this time?
My interests are broad and still being explored at this point. Duke provides ample opportunities and the infrastructure to cultivate my research interests, so I am confident that I will have excellent support in which ever field of orthopedics I pursue
About Duke University and Durham
Where did you choose to live, and why?
I choose to live in Downtown Durham. It is an easy commute to the hospital, and the location offers plenty of entertainment when I have free time.
What do you like to do outside of medicine?
Outside of medicine, I enjoy going to concerts and spending time outdoors. I love to fish, kayak, and hike. I also enjoy hanging out with my family and friends.