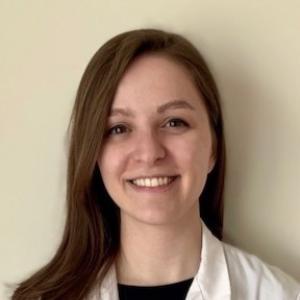 PGY-3
Hometown
Albany, New York
Where did you attend college/university?
University of California, Berkeley
What did you do after college?
I graduated one semester early from undergrad and used the 6 months prior to starting medical school to teach MCAT courses for The Princeton Review and intern at a basic science lab.
Where did you attend medical school?
Albert Einstein College of Medicine, Bronx, NY
About the Duke program
What were you looking for in a residency program? 
I was looking for a residency program that not only emphasized excellence in surgical training, academics, and research but also fostered a strong sense of community and collegiality between residents and faculty.
What are your research and clinical interests at this time? My current research interests are clinical and translational projects focused on the topics of sarcoma, metastatic bone disease, and benign bone tumors. My clinical interests are still broad at this time and include oncology, pediatrics, hand, and sports.
About Duke University and Durham
Where did you choose to live, and why?
I chose to live in an apartment in Durham – I like having the ability to walk to nearby stores and restaurants and still be able to get outside for a run after work.
What do you like to do outside of medicine?I love to spend time outdoors and be active - I run, hike, and go to the gym whenever I can. I'm a huge lacrosse and football fan and am really looking forward to the Buffalo Bills winning a super bowl! I also love to embroider and can spruce up (almost) anything with new designs.