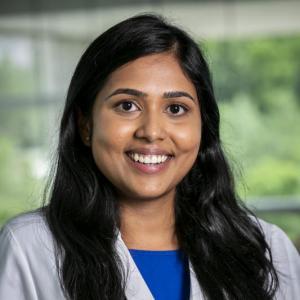 PGY-4
Hometown
Burtonsville, Maryland
Where did you attend college/university?
The University of North Carolina at Chapel Hill
What did you do after college?
I continued my undergraduate research in an ultrasound imaging lab studying vasculature in the tumor microenvironment.
Where did you attend medical school?
Duke University School of Medicine
About the Duke program
What were you looking for in a residency program?
Duke has incredible clinical training and diverse research opportunities; however, the most impressive aspect of the program for me is the camaraderie. I knew that I wanted to train amongst a group of residents and faculty that would fully embody the team atmosphere. It is a privilege to be able to train in an environment where everyone is committed to your professional and personal growth as an orthopaedic surgeon.
What are your research and clinical interests at this time?
Currently, my research interests include personalized therapies for bone and soft-tissue-sarcoma. I am looking forward to exploring all of the subspecialties, though I have enjoyed rotations in upper extremity and orthopaedic oncology thus far.
About Duke University and Durham
Where did you choose to live, and why?
I live in downtown Durham so that I can be within walking distance of the weekly farmer's market and restaurants.
What do you like to do outside of medicine?
I enjoy hiking at Eno River State Park, traveling to national parks, playing tennis, and exploring new restaurants in Durham.