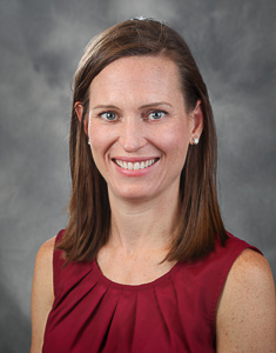 Dr. Pietrosimone is an Assistant Professor in the Doctor of Physical Therapy Division within the Department of Orthopedic Surgery at Duke University and a Clinical Research Scientist at Duke Sports Science Institute (DSSI). Her research focuses biomechanical and physical activity changes following lower extremity injury and seeks to develop pragmatic, multi-modal intervention strategies to improve health and quality of life outcomes. Her current work seeks to 1) use wearable technology to detect changes in lower extremity biomechanics in real-world settings, 2) develop non-invasive ultrasound measurement of musculoskeletal tissue health, and 3) improve comprehensive, biopsychosocial management strategies for patients following musculoskeletal injury and surgery. Additionally, she leads the Physical Performance Testing Program at DSSI, which includes a robust performance and self-reported function assessment on all patients following traumatic knee injury and surgery in our clinic.
Publications from the 2020-2021 Academic Year
·Losciale JM, Bullock G, Cromwell C, Ledbetter L, Pietrosimone L, Sell TC. Hop Testing Lacks Strong Association With Key Outcome Variables After Primary Anterior Cruciate  Ligament Reconstruction: A Systematic Review. Am J Sports Med. 2020 Feb;48(2):511-522.
·Pietrosimone LS, Blackburn JT, Wikstrom EA, Berkoff DJ, Docking SI, Cook J, Padua DA. Landing Biomechanics, But Not Physical Activity, Differ in Young Male Athletes With and Without Patellar Tendinopathy. J Orthop Sports Phys Ther. 2020 Jan 6:1-30.
·Lentz TA, Magill J, Myers H, Pietrosimone LS, Reinke EK, Messer M, Riboh JC. Development of Concise Physical Performance Test Batteries in Young Athletes. Med Sci Sports Exerc. 2020 Jun 15.
·Pietrosimone LS, Blackburn JT, Wikstrom EA, Berkoff DJ, Docking SI, Cook J, Padua DA. Landing biomechanics are not immediately altered by a single-dose patellar tendon isometric exercise protocol in male athletes with patellar tendinopathy: A single-blinded randomized cross-over trial. Phys Ther Sport. 2020 Sep 12;46:177-185.
·Magill JR, Myers HS, Lentz TA, Pietrosimone LS, Risoli T, Green CL, Reinke EK, Messer MR, Riboh JC. Healthy Pediatric Athletes Have Significant Baseline Limb Asymmetries on Common Return-to-Sport Physical Performance Tests. Orthop J Sports Med. 2021 Jan 29;9(1):2325967120982309.
·Wallace KG, Pfeiffer SJ, Pietrosimone LS, Harkey MS, Zong X, Nissman D, Kamath GM, Creighton RA, Spang JT, Blackburn JT, Pietrosimone B. Changes in Infrapatellar Fat Pad Volume From 6 to 12 months Following Anterior Cruciate Ligament   Reconstruction and Associations with Patient-Reported Knee Function. J Athl Train. 2021 Mar 31.
·Pietrosimone LS, Blackburn JT, Wikstrom EA, Berkoff DJ, Docking SI, Cook J, Padua DA. Differences in Biomechanical Loading Magnitude During a Landing Task in Male Athletes with and without Patellar Tendinopathy. J Athl Train. 2021 Apr 22.
·Elgart B, Pietrosimone LS, Lucero A, Stafford HC, Berkoff DJ. Identifying achilles tendon structure differences by ultrasound tissue characterization in asymptomatic individuals. Scand J Med Sci Sports. 2021 Jun 25.
·Pfeiffer SJ, Spang JT, Nissman D, Lalush D, Wallace K, Harkey MS, Pietrosimone LS, Padua D, Blackburn T, Pietrosimone B. Association of Jump-Landing Biomechanics With Tibiofemoral Articular Cartilage Composition 12 Months After ACL Reconstruction. Orthop J Sports Med 2021 Jul 21;9(7):23259671211016424
·Magill JR, Myers HS, Lentz TA, Pietrosimone LS, Risoli T, Green CL, Reinke EK, Messer MR, Riboh JC. Establishing Age- and Sex-Specific Norms for Pediatric Return-to-Sports Physical Performance Testing. Orthop J Sports Med. 2021 Aug 19