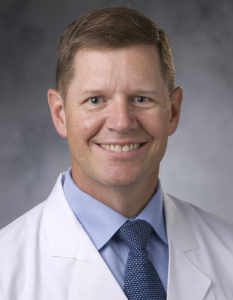 Dr. Taylor is a Professor of Surgery in the Division of Orthopaedic Surgery, Director of the Duke Sports Medicine Fellowship Program, and Team Physician for Duke Athletics. His specific clinical and research interests include shoulder instability and labral tears, knee instability and ligament tears, knee articular cartilage and meniscal injuries, and ACL injuries in children. Dr. Taylor does surgery in the Duke Ambulatory Surgery Center. He see patients and performs research at the Urbaniak Sports Sciences Institute. Dr. Taylor is also the chair of the Feagin Leadership Program and has a keen interest in research related to physician leadership education and development.
Publications from the 2020-2021 Academic Year
·Tayne S, Hutchinson MR, O'Connor FG, Taylor DC, Musahl V, Indelicato P. Leadership for the Team Physician. Curr Sports Med Rep. 2020 Mar;19(3):119-123
·Taylor DC, Andolsek KM. What's Important: Physician Leadership: Now Is the Time. J Bone Joint Surg Am. 2020 Jul 15;102(14):1219-1220.
·Lau BC, Hutyra CA, Streufert B, Reed SD, Orlando LA, Huber JC, Taylor DC, Mather RC 3rd. Surgeon Applications of Patient Preferences in Treatment Decision Making for First-Time Anterior Shoulder Dislocation. Orthop J Sports Med. 2020 Dec 4;8(12):2325967120966145.
·Nosé B, Sankey E, Moris D, Doty J, Taylor D. Leadership Training in Medicine-12 Years of Experience From the Feagin Leadership Program. Mil Med. 2021 Jul 17:usab293.
·Bonazza NA, Cabell GH, Cheah JW, Taylor DC. Effect of a novel healthcare leadership program on leadership and emotional intelligence. Healthc Manage Forum 2021 Sep;34(5):272-277