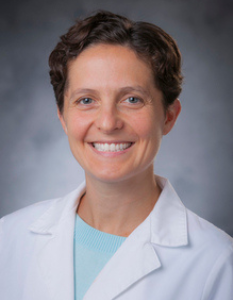 Dr. Wittstein is an associate professor of orthopaedic surgery with research and clinical interests in the shoulder, elbow, and knee in the pediatric and adult populations. In the shoulder, she has studied outcomes of rotator cuff repairs, surgical treatment of injuries to the long head biceps, use of telemedicine in the evaluation of shoulder pathology. Dr. Wittstein is also studying the relationship between menopause and hormone replacement therapy to development of frozen shoulder in women. In the elbow she has interests in gymnastics-related injuries as well as youth throwing-related injuries. Areas of interest in the knee include ACL mechanisms of injury, ACL and meniscus injuries in relation to development of post traumatic arthritis, and the effects of blood in the knee on joint health and meniscus healing. Dr. Wittstin is a co-investigator on several NIH grants in collaborations with Drs. Louis DeFrate and Amy McNulty in studies of these knee related topics. Dr. Wittstein sees patients at Duke Orthopaedics of Arringdon, Heritage, and Apex. She performs surgery at the Arringdon ASC and Duke Raleigh Hospital and conducts research as part of her work at all of these sites.
Publications from the 2020-2021 Academic Year
·Lau BC, Scribani M, Wittstein J. Patients with depression and anxiety symptoms from adjustment disorder related to their shoulder may be ideal patients for arthroscopic rotator cuff repair. J Shoulder Elbow Surg. 2020 Jul;29(7S):S80-S86.
·Englander ZA, Wittstein JR, Goode AP, Garrett WE, DeFrate LE.  Reconsidering Reciprocal Length Patterns of the Anteromedial and Posterolateral Bundles of the Anterior Cruciate Ligament During In Vivo Gait.  Am J Sports Med. 2020 Jul;48(8):1893-1899.
·Bradley KE, Cook C, Reinke EK, Mather RC 3rd, Riboh J, Lassiter T, Wittstein JR. Comparison of the accuracy of telehealth examination versus clinical examination in the detection of shoulder pathology.  J Shoulder Elbow Surg. 2020 Aug 29:S1058-2746(20)30689-3.
·Crook BS, Collins AT, Lad NK, Spritzer CE, Wittstein JR, DeFrate LE. Effect of walking on in vivo tibiofemoral cartilage strain in ACL-deficient versus intact knees.  J Biomech. 2020 Dec 28;116:110210.
·Kim-Wang SY, Scribani MB, Whiteside MB, DeFrate LE, Lassiter TE, Wittstein JR. Distribution of Bone Contusion Patterns in Acute Noncontact Anterior Cruciate Ligament-Torn Knees. Am J Sports Med. 2021 Jan 7:363546520981569
·Bonazza NA, Saltzman EB, Wittstein JR, Richard MJ, Kramer W, Riboh JC. Overuse Elbow Injuries in Youth Gymnasts. Am J Sports Med. 2021 Mar 29:3635465211000776. doi: 10.1177/03635465211000776.
·Englander ZA, Lau BC, Wittstein JR, Goode AP, DeFrate LE.  Patellar Tendon Orientation and Strain Are Predictors of ACL Strain In Vivo During a Single-Leg Jump. Orthop J Sports Med. 2021 Mar 18;9(3):2325967121991054.
·Lau BC, Wittstein JR, Anakwenze OA. How Are Orthopaedic Sports Medicine Physicians Triaging Cases and Using Telehealth in Response to   COVID-19? A Survey of AOSSM Membership. Orthop J Sports Med. 2021 Mar 3;9(3):2325967121990929.
· McCrum E, Cooper K, Wittstein J, French RJ. Imaging of Patellofemoral Instabillity. Clin Sports Med. 2021 Oct;40(4):693-712.