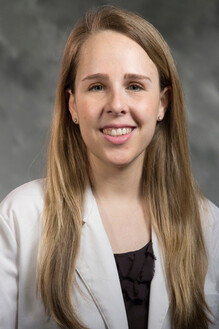 Dr. Johnston is an Assistant Professor in Family Medicine and Community Health and a primary care sports medicine physician. Her research focuses on physical activity as a vital sign, the female athlete triad/relative energy deficiency in sport, and running medicine. Dr. Johnston oversees the sports medicine rotation for the Family Medicine residents and cares for patients in her sports medicine clinic at Pickens Family Medicine as well as at Duke Student Health. She is also one of the team physicians for Duke athletics.
Publications from the 2020-2021 Academic Year
·Stocklin-Enright T, Johnston K. Fourth & Clavicle. 2020 AMSSM Case Podium Presentations, CJSM: March 2020 - Volume 30 - Issue 2 - p e26-e60
·Johnston, K., Higginson, C., Saffel, H., Moreno, A.C., Bradley, K.E. and Toth, A.P. The Female Basketball Player. In Basketball Sports Medicine and Science (pp. 835-845). 2020.
·Johnston K, Condon TA, Ciocca M, Aguilar A. A Small Bowel Perforation in a Goalkeeper: A Case Report and Return to Play Progression. J Athl Train. 2021 Mar 3.