The Department of Orthopaedics is committed to producing and fostering clinicians and trainees who serve, learn, and give. This is exemplified in the work they do globally to establish relationships, provide training for physicians and staff in underserved countries, develop research and practice models in the field, and help those who need it most.Global programs are constantly evolving and expanding as faculty and staff are seeking new ways to serve and locations in need. Today, the Department of Orthopaedics is involved in varying capacities in Honduras, India, San Salvador, Norway, Nepal, Jamaica, Kuwait, Sri Lanka, and Tanzania.
Uganda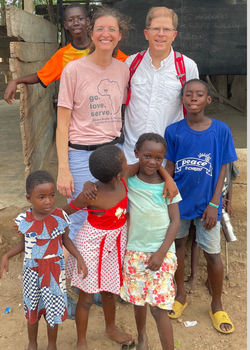 Dr. Blake Boggess recently returned from his 4th trip to Africa after he directed a musculoskeletal ultrasound course in Kampala, Uganda. Dr. Boggess had previously been the keynote speaker for the Orthopaedic Society of Uganda in October of 2019. He was invited back to direct a course for the orthopedic society in conjunction with the Association of Radiologists in Uganda. ​
​
Dr. Boggess was accompanied by his wife Amelia, 2 additional physicians, 3 physiotherapists, 1 sports scientist, and 2 university student assistants. The team organized and taught a two-day sports medicine/ physical therapy symposium at Mbarra University of Science and Technology. They wrapped up their medical mission by evaluating and treating the Ugandan National Athletics team in preparation for the Pan African Games.​​
​
Blake has directed over 38 ultrasound courses, including Russian, China, Cuba, Ghana, and Taiwan.​
Vietnam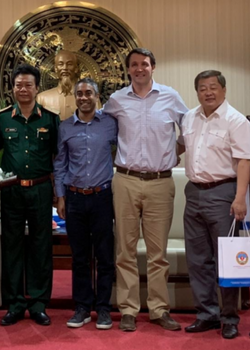 In February 2020, Duke Orthopaedic hand surgeon Dr. Marc Richard joined a group from Stanford University for a visit to Hospital 175 in Ho Chi Minh City, Vietnam, for a week-long exchange including education, surgery, and the establishment of research protocols to understand the effect of the mission trip.
The Stanford team members included Dr. Robin Kamal (Duke Hand Fellowship alumnus) and Dr. Lauren Shapiro (Duke Hand Fellowship alumna). Preparing to treat patients who traveled from all over Vietnam, the team spent their first day in indications clinic where they examined varied and complex cases. Subsequently, the next few days were spent in the operating rooms in the mornings and teaching, lecturing, and reviewing case presentations in the afternoons. The team primarily performed hand and upper extremity cases including distal radius fractures, both bone forearm fractures, distal humerus, and humeral shaft fractures and malunions, distal radius mass biopsy, elbow instability, and multiple tendon transfers for a patient with a radial nerve injury following a motorbike accident. 
Through a grant, the group established follow-up protocols through a smartphone text message system for operative patients including the use of patient-reported outcome measures. The goal is to understand the ability to affect change through episodic mission trips and to identify barriers to success such that necessary changes can be made. The group plans to return in 2021 and continue this work.
Australia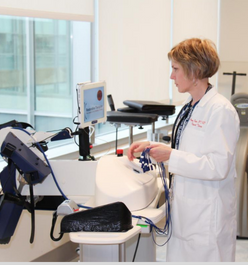 The legacy of critical illness leaves millions of survivors worldwide with long-lasting deficits in physical and brain function as well as anxiety, depression, and post-traumatic stress disorder. Early rehabilitation in the intensive care unit (ICU) may prevent or minimize these effects. Amy M. Pastva, PT, MA, PhD, is collaborating with a global team from the University of Melbourne/Austin Health, Australia (Sue Berney, PT Ph.D., and Linda Denehy, PT, Ph.D.), Royal Brisbane and Women's Hospital, Australia (Jennifer Paratz, PT, Ph.D.), and Johns Hopkins University, USA (Dale Needham, MD, Ph.D.), to study the effectiveness of functional electrical stimulation of leg muscles during in-bed cycling (eStimCycle) on muscle bulk, strength, physical function and brain function at hospital discharge and at 6 and 12 months afterward in patients who were critically ill in the ICU (ClinicalTrials.gov ID: NCT02214823). This is one of the first of global studies in critical care rehabilitation and the combined effort will help guide treatment strategies worldwide for patients at high-risk for ICU-acquired deficits.
El Salvador
Current and former Duke residents and fellows, including Dr. Daniel Mangiapani (PGY-4 resident); Dr. Jordan Schaeffer (Resident Class '13); and Dr. Tim Randell (Fellowship Class of '15), traveled to San Salvador to participate in Operation Walk Utah. Operation Walk Utah was started in 2007 by Dr. Aaron Hofmann (Hofmann Arthritis Institute), who had a dream of doing free surgeries in third-world countries with a team of volunteers. It is a private, not-for-profit, volunteer medical service organization that provides free joint replacement surgeries for patients with disabling arthritis in developing countries and in the United States. Operation Walk also educates in-country orthopedic surgeons, physical therapists, and other health care professionals about advanced treatments and surgical techniques for diseases of the hip and knee joints.
During the trip to San Salvador, the Operation Walk Utah team performed 72 joint replacements in 5 operative days, spanning 3 ORs. Cases ranged from a 35-degree valgus knee with MCL incompetency to bilateral total hip arthroplasty on severely dysplastic hips. On the team's final day, they rounded on all the inpatients, whose joy and happiness radiated on their faces and their families' faces.
"It was, no doubt, a life-changing experience that has changed my outlook on what 'service' truly is," says Dr. Mangiapani.